Buy NordicTrack Treadmill T8.0 – Save $600
Want to get fit for the New Year? For a limited time, Sears is offering the bestselling Nordic Track Treadmill T8.0 at $600 off the regular price. This is your opportunity to take control of your health–in the convenience of your own home.

.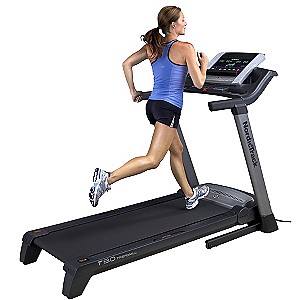 Nordic Track Treadmill T8.0 Reviews:
Pros:
Quiet
Large digital display is easy to read
Easy to assemble or have Sears assemble it for you
Good sound quality through iPod jack and built-in speakers
Cons:
Heavy
Need two adults for some parts of the assembly
Review Summary: Find a nice place to enjoy the benefits of the NordicTrack Treadmill T8.0 because it is not light enough to move around casually. Get help with assembling the treadmill or just arrange for Sears to do it for you. This product is available for home delivery, or you can order it online through the link above and pick it up at any Sears store. Reviewers like the quiet workout (or a jamming workout with the iPod jack), and you will too.
Check out the video below for the benefits of walking or running on a treadmill.
Newer version available.
Download the latest video player
and then refresh this page.
Whether you plan to get in shape by walking each day or you are a competitive runner looking to train at home, the Nordic Track Treadmill T8.0 can accommodate your fitness goals. The best-selling NordicTrack T8.0 Treadmill gives you an intense cardio workout to improve your endurance, strengthen your heart and muscles, boost your metabolism, and improve your overall health. Enjoy variety and challenges during every workout, thanks to the system's 18 workout programs, speed/incline control, and quiet 3.0 horsepower motor. While you exercise to your favorite music through the iPod jack and built-in speakers, you can monitor your speed, incline, distance, calories burned, and pulse on the multi-window LED display. The NordicTrack Treadmill T8.0 features a fan and quick keys for comfort and easy use, and it folds up for storage. It is an essential piece of fitness equipment to add to your home.
Key Features:
Track your speed, incline, distance, calories burned and pulse with the large LED display
Listen to your favorite tunes with the built-in iPod jack and speakers
Keep cool with the integrated workout fan
18 workout apps created by a certified personal trainer
Adjustable speed and incline adds variety to your routine
Cushioned track lowers impact to your knees and feet
Includes CardioGrip heart rate monitor with Polar wireless chest strap
SpaceSaver fold-up storage design with EasyLift Assist
Lifetime warranty on frame and motor, 3 year warranty on parts
What's in the Box
NordicTrack Treadmill T8.0
Polar wireless chest pulse strap
Lifetime warranty on frame and motor, 3 year warranty on parts

.