Kodak PlaySport ZX3 Waterproof HD Video Camera
An excellent camera for anyone who loves surfing, skiing, or offroading. The Kodak PlaySport ZX3 Waterproof HD Video Camera is waterproof and has built-in image stabilization to "de-blur" all your extreme videos in HD.
.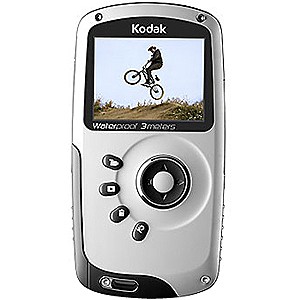 Reviews for the Kodak PlaySport ZX3 Camera
Pros:
Rugged
Compact
Great underwater shots (waterproof)
Great overall HD video recorder
Cons:
No flash
Small control wheel
Review Summary: Buy. A high-quality video camera for anyone who likes adventures, especially around water. Check out the underwater video below, shot with the Kodak PlaySport in Eilat.
Newer version available.
Download the latest video player
and then refresh this page.
Heads up, adrenaline junkies. The Kodak Playsport camera has as much appetite for adventure as you do. And it's not afraid to get wet. This compact Kodak PlaySport ZX3 camera can plunge up to 10 feet under water and capture the entire experience in full 1080p HD. And you don't need to worry about blurry footage when things get a little shaky. With built-in image stabilization, the Kodak Playsport will stay steady as a rock. From the waves, to the slopes, to the mud-soaked trails, this baby was made for the extremes.
Key Features:
Waterproof up to 10 ft. (3 m)
Full 1080p HD video
Electronic image stabilization
Brilliant 2.0 in. color display
Capture 5 megapixel HD stills (16:9)
What's in the Box
Kodak PlaySport ZX3 Waterproof HD Video Recorder
Software: Drivers & Utilities, ArcSoft MediaImpression
HDMI cable
A/V cable
Wrist strap

.